World Book Day
March 2018
The children and staff had great fun dressing up for World Book Day on Thursday 1st March.
We shared our favourite books with our Friendship Ladder groups and then wrote a book review about the books.
'Aladdin Pantomime'
February 2018
The whole school enjoyed a performance from M&M Theatrical Productions who came to visit us in the afternoon of Wednesday 7th February.
All the children had a wonderful time and enjoyed their performance of 'Aladdin'.
'Lights, Camel, Action'
December 2017
Birch, Maple, Rowan, Ash and Willow Classes enjoyed performing this year's concert.
Harvest Festival Assembly
October 2017
Key Stage 2 parents were invited to our Harvest Festival Assembly on Wednesday 4th October.
Science Mornings
June 2017
Reception, Key Stage 1 and Key Stage 2 took part in two Science Mornings on Wednesday 7th and Thursday 8th June based on water.
The children had lots of fun, looking at surface water tension, diffusion, air and water pressure, floating and sinking, chromatography and capillary action.
Book Swap
March 2017
Our Book Swap took place on Tuesday 7th March as part of our celebration of World Book Day. Thanks go to Mrs Truett and the Reading Rockets who organised the event. It was a great way for the children to get some new books to read without spending any money.
African Drumming Day
February 2017
Our Drumming Day took place on Tuesday 28th February. All our KS1 and KS2 classes had the opportunity to come into the hall and learn some African Drumming. It was a wonderful chance for the children to learn about music from another culture.
Cinderella & Rockerfella
December 2016
The children in Birch, Maple, Rowan, Ash and Willow Classes staged a fantastic Christmas production of Cinderella & Rockerfella.
The slideshow below captures moments from their performance.
World Book Day
March 2016
On World Book Day, Thursday 3rd March, the Reading Rockets organised a 'Book Swap' event. Everyone could bring in up to six books they no longer wanted and swap them for up to six different books. Everyone joined in the fun and got some new books to read too!
International Week
January 2016
We all enjoyed International Week during January.
We visited one another's classes and discovered about life in a variety of countries.
Christmas Dinner
December 2015
On Wednesday 16th December, the children enjoyed a Christmas Dinner in the School Hall served by their teachers.
The Wriggly Nativity
December 2015
The children in Cherry, Oak and Elm Classes enjoyed performing their Christmas production of the 'The Wriggly Nativity'.
We hope you enjoy viewing some of the children's work.
We have organised the activities into their Key Stage.
As a whole School we have enjoyed the following activities
Pirates Versus Mermaids
December 2015
The children in Birch, Maple, Rowan, Ash and Willow Classes staged a fantastic Christmas production of Pirates Versus Mermaids.
Children In Need Day
November 2015
Children In Need Day on Friday 13th November was a great success. These are some of the prize winning bears as chosen by the School Council. Maple Class are proudly carrying their dressed up bears.
Children In Need Concert
November 2015
Miss Bowden, our ukulele teacher, arranged a Children In Need Concert on Wednesday 11th November for our Choir and Year 4 pupils.
Other schools also came along. The huge sum of £866 was raised!
Interschool Sports
July 2015
This event took place at Layston School and was a happy and sunny event. Our team came second with Roger de Clare the winners. Thanks to Mrs Truett and Mrs Nightingale for training our team.
Empty Classroom Day
June 2015
Lots of the children enjoyed taking part in outdoor activities during Empty Classroom Day on Friday 19th June.
Sponsored Bounce
June 2015
On Friday 19th June we all took part in a sponsored bounce to raise funds for school.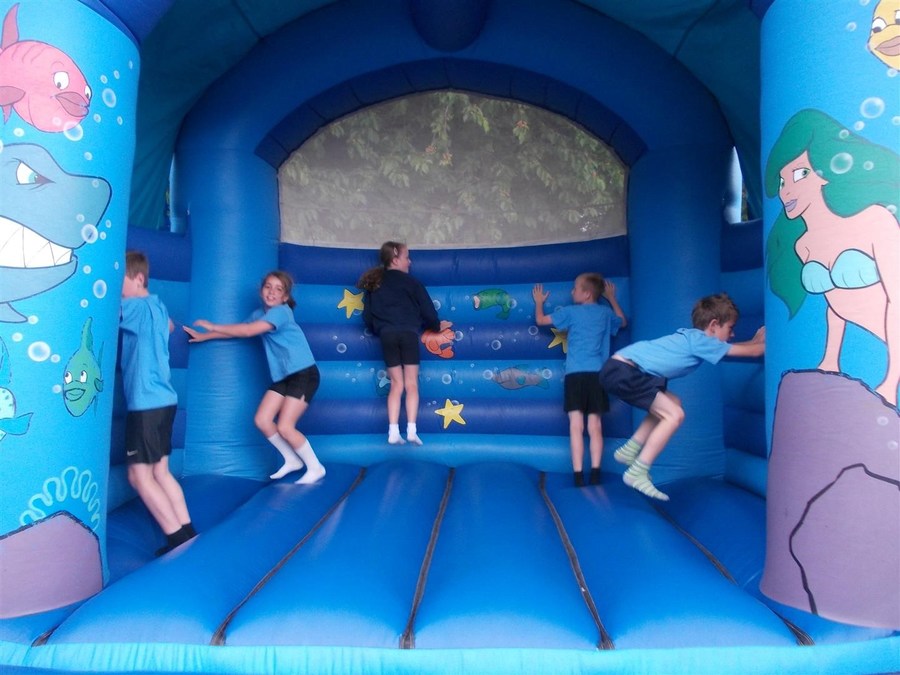 Cross Country Festival
May 2015
Key Stage One and Key Stage Two enjoyed taking part in the Cross Country Festival at Edwinstree School on Thursday 7th May.
Callum Eveleigh Football Tournament
April 2015
Our School took part in the Callum Eveleigh Memorial Shield 5-a side football tournament on Tuesday 28th April.
All the children enjoyed the tournament and played with a sporting attitude.
World Book Day
March 2015
We celebrated World Book on Thursday 5th March.
Beauty and the Beast
January 2015
M&M Theatrical Productions gave a fantastic performance of 'Beauty and the Beast' for all the school on Thursday 22nd January 2015.
Birch, Maple, Rowan, Ash and Willow Classes present
'Christmas Around the World - The Real St Nick'
December 2014
Oak, Cherry and Elm Classes present
'The Sleepy Shepherd'
December 2014
Harvest Festival
October 2014
Our Harvest Assembly held on Thursday 16th October was a great success.
Lots of parents attended and we raised £194.65 for Water Aid.
National Science Week
March 2014
Unilever visited the school on Friday 21st March during National Science Week.
Key Stage One and Key Stage Two had a great time trying different experiments.
Christmas Activities
December 2013
These photographs show just a few of our Christmas activities: 'Puss in Boots', Year 4 Carol singing to the elderly, the visit of Father Christmas and our School Christmas dinner.
Storyteller
February 2013
Each class had a storytelling workshop with Marion Leeper. Reception and Key Stage 1 had a magic carpet ride to listen to a story from another country and Key Stage 2 heard a chinese story ready for Chinese New Year. The day ended with a whole school assembly.
Fun in the Snow
January 2013
We have all enjoyed playing in the snow during the cold snap. Pupils wrapped up warm and put on their snow boots and had fun working together to build giant snow balls.
Hansel and Gretel

December 2012
This year's Christmas production was Hansel and Gretel. Key Stages 1 and 2 worked really hard to learn their lines and dance routines. It was a performance to remember!
Travelling Book Fair
October 2012
The Travelling Book Fair visited Millfield and we raised over £300 to buy new books for our class book shelves.
Olympic Mascot Dance
July 2012
Please enjoy watching our videos of the Olympic Mascot Dance performed by the whole school which we had hoped to show you at our Sports Day.
Royal Diamond Jubilee Celebrations
May 2012
On Thursday 31st May we held our Jubilee Celebration on the school field. The children wore red, white and blue to school and made Jubilee hats. The weather was kind to us and the children all enjoyed their picnic lunch on the field.
Food from around the World
March 2012
Herts Catering have been providing us with healthy meals from around the World. Each day we have had food from another country and in class we have found out about a sporting hero from that country, in preparation for London 2012.
International Week
16th - 20th January 2012
As part of our International Week Millfield went on a trip around the World!
We visited China, Colombia, Borneo, Kenya, Russia, Norway, Morocco and India.
We had a wonderful time and learnt a lot.